Vegetarian Cooking Demonstration: It's Not Just for the Back-to-Nature Crowd!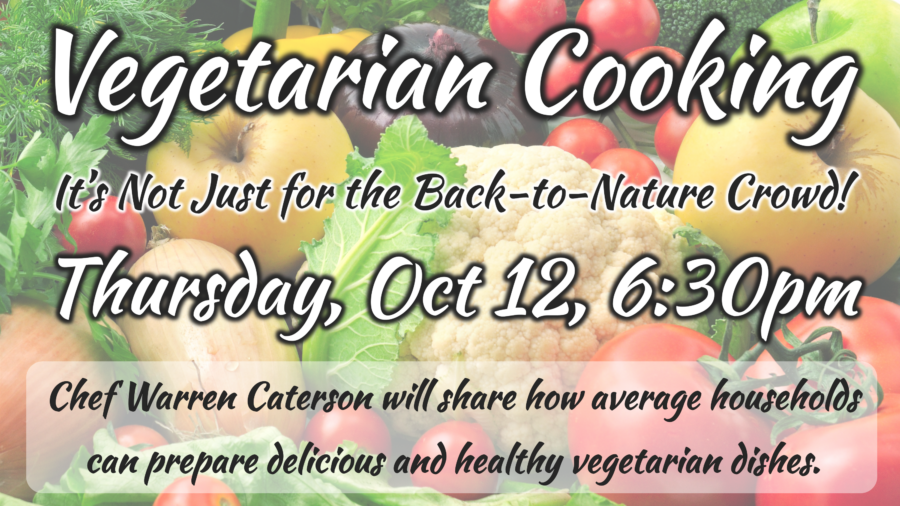 Celebrate Vegetarian Awareness Month at the Safety Harbor Public Library with a cooking demonstration by Chef Warren Caterson on Thursday, October 12 at 6:30 pm. Learn how to prepare delicious and healthy dishes sans meat using ingredients you have at home, including eggs and dairy.
Chef Warren will share how vegetarian cuisine is not just for the back-to-nature crowd as he shares dozens of kitchen tips, cooking hints, and humorous anecdotes about the joys and challenges of cooking and shows you your pantry and fridge are already stocked with the ingredients needed to prepare a host of healthy vegetarian entrees.
Chef Warren Caterson is a full-time writer and chef who studied at the Southeast Institute of Culinary Arts. He is the author of Table for Two – The Cookbook for Couples, Table for Two – Back for Seconds, and Cooking Outside the Lines – Musings of an Extemporaneous Chef.
The library is located at 101 2nd Street North, Safety Harbor. Call (727) 724-1525 x 4112 for more information and visit www.SafetyHarborLibrary.com for a complete listing of library programs.