Trees, parking could turn short City Commission agenda into long meeting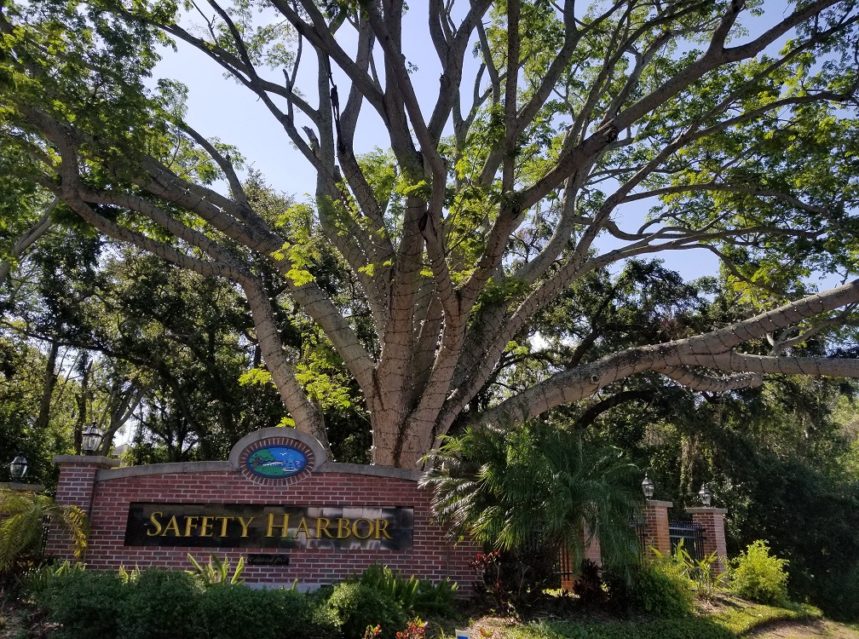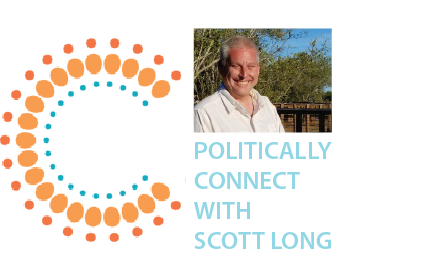 There are only three main items on the agenda for the Safety Harbor City Commission's June 4 meeting, but two of them – an elephant ear tree at the city's entrance and downtown parking – have the potential to make it a long meeting.
The meeting will begin at 7 p.m., but will be preceded at 6 p.m. by a budget and goal-setting workshop. Here are links to each agenda, with additional material, known as "backup," available via the hyperlink on each item:
City Commission meeting (7 p.m.): http://safetyharbor.granicus.com/GeneratedAgendaViewer.php?view_id=6&event_id=1620
Budget and Goal-Setting Workshop (6 p.m.): http://safetyharbor.granicus.com/MetaViewer.php?view_id=6&event_id=1639&meta_id=126393
TOP ISSUES
ELEPHANT EAR TREE AT CITY'S ENTRANCE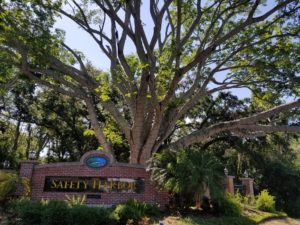 What is it? Tree issues always stir passionate discussion in Safety Harbor, but this stately, but decaying, tree at the city's entrance at McMullen Booth Road and Main Street was the subject of fierce debate when a social-media post in April incorrectly stated that the city planned to cut down the tree on May 1. Rather, City Manager Matt Spoor had updated commissioners via email in September of the tree's condition and that the city was reviewing possible options, including structural improvements to extend the tree's life, and would report back to Commission when that research was complete, which is what is happening now.  
What's the issue? The elephant tree is an invasive species, native to Costa Rica, and is not on the city's protected tree list. Evaluations by three certified arborists, including City Arborist Art Finn, as well as a 2016 analysis by a tree company, show the tree has significant rotting, cracks and decay, root and soil damage and structural damage that has become hazardous. Twice in the past two years failing limbs have damaged the city's entranceway sign. City staff has suggested two possible options:
Option #1 –

Remove three smaller, also-decaying elephant ear trees adjacent to the larger one, reduce the canopy of the remaining one to lessen the potential of branches failing on Main Street, mulch the area to help prevent additional root damage and monitor the tree twice a year for health and structure. Estimated cost: $5,000.

Option #2 –

Remove all four elephant trees, grind their stumps and replace them with a choice of one 35-foot-tall live oak tree with an eight-inch diameter, two 20-to-25-foot live oak trees with six-inch diameters or one 35-foot Magnolia tree. Estimated cost: $16,000.
What decision needs to be made? Commission can choose between the two options or request more information or alternatives. If it chooses Option #2, it also needs to decide which replanting option it prefers.
DOWNTOWN PARKING AMENDMENTS
What is it? While a much larger, and possibly more contentious, discussion on downtown parking will come later this year after a downtown parking survey is completed, anything to do with downtown parking, even these mostly modest modifications, has the potential to spark significant discussion.
What's the issue? This the latest in a series of code revisions Commission indicated interest in reviewing back in December. Most of the changes are suggested by city staff based on recent interactions with business applicants.The biggest is making a distinction between when a new business adds to gross square footage rather than simply changing the type of use. This came up last year when a medi-spa seeking to open in the former Captain's Pizza building was required to expand its parking, even though the square footage was the same and the use would be less intense than a pizza parlor. City staff wants changes in use to be handled by staff, while changes in square footage to trigger a major modification approval. The other big change is allowing for a 25 percent reduction in parking requirements in the Community Redevelopment District, which is mostly downtown, for new businesses in existing buildings when it can be determined that additional parking can not be reasonably added. Finally, the code change would add standards for bicycling parking and adds a bicycle parking requirement.        
What decision needs to be made? Commission can approve, change or deny the proposed changes, or delay a decision for more research or information.
SECOND READINGS
Ordinances or changes to city code require two hearings before the City Commission.
Rezoning and Future Land Use Map amendment for city retention pond: Commission voted 5-0 on first reading in February to rezone a 7.26-acre, city-owned retention pond at the corner of Dr. Martin Luther King Jr. and Pine streets from "residential" to "preservation" and make a corresponding change to the city's Future Land Use Map. The changes have been approved by the city's Planning & Zoning Board and the Countywide Planning Authority.
HOW TO PARTICIPATE
Attend the meeting: The meeting starts at 7 p.m. at City Hall, 750 Main St., with the budget and goal-setting workshop starting at 6 p.m. Meetings typically run from 1.5 to three hours. Residents are given the opportunity to speak on all agenda items, except for presentations and consent agenda items. Come forward when asked by the mayor, state your name and address, and you'll be given three minutes to address the Commission. For any issues not on the agenda, or any item that is on the consent agenda, residents get three minutes to speak at the beginning of the meeting during "Audience to be Heard."  
Watch from home: Meetings are live-streamed to the city's website at http://cityofsafetyharbor.com/557/Streaming-Media. The following day, a video of the meeting is posted for residents to watch.
Contact your Commissioners in advance by leaving them a message at City Hall at (727) 724-1555 or emailing them:
Mayor Joe Ayoub – jayoub@cityofsafetyharbor.com
Vice Mayor Carlos Diaz – cdiaz@cityofsafetyharbor.com
Commissioner Cliff Merz – cmerz@cityofsafetyharbor.com
Commissioner Andy Zodrow – azodrow@cityofsafetyharbor.com
Commissioner Nancy Besore – nbesore@cityofsafetyharbor.com