SWAT Team Invades Safety Harbor!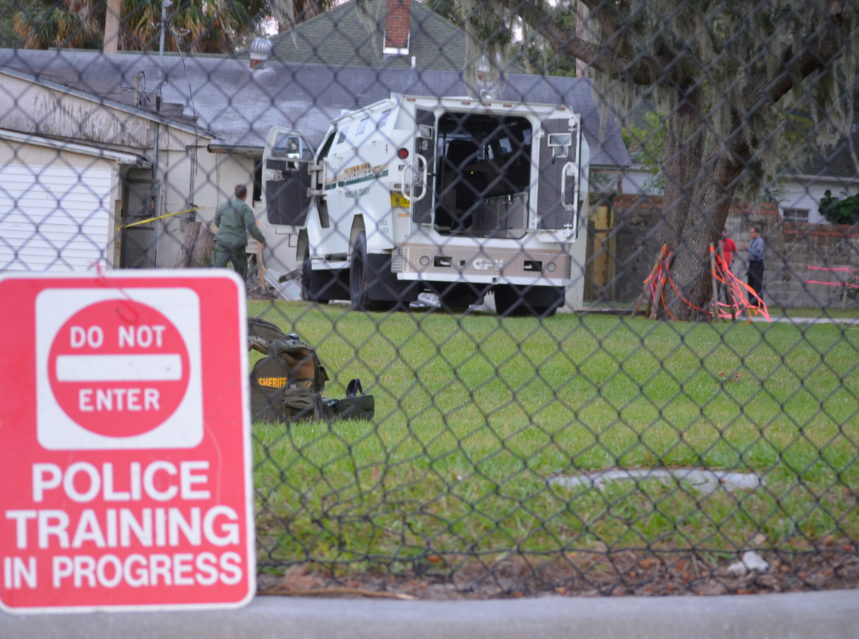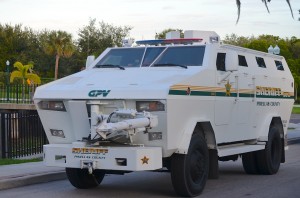 At about 4:45 on Tuesday afternoon, members of the Pinellas County Sheriff's Office's SWAT team rolled up Bayshore Boulevard in an armored tactical assault vehicle, turned into a driveway off Iron Age Drive, and immediately swarmed an abandoned house on the property.
The incident looked like a scene from a Ben Affleck movie, or one of the many real-life dramas Americans have seen played out on TV countless times over the past few years.
But there were no directors on this set, and no dangerous fugitives were holed up in the ramshackle house that sits just a few hundred feet from the Safety Harbor Museum and Cultural Center.
The excitement was part of the PCSO's SWAT team's monthly training exercise, used to simulate real world scenarios and prepare the specially trained officers for any and all situations they may face.
"We have to train in realistic scenarios, because if we don't, we won't know what to do when these incidents take place," PCSO Captain Glenn Luben, who oversaw the drill, told Safety Harbor Connect.
"This was phenomenal because the officers didn't get to see this location, other than aerial views, before they got here, and they didn't even know they would be doing this exercise until a couple of hours ago," he added. "So they really had to rely on their skills and preparation."
Standing behind the phalanx of nearly two dozen officers who used flash bangs to gain entry to the home after the assault vehicle punched a hole in the building was the property's owner, Jim Barge.
Barge said he allowed the team to destroy the home because he planned to have it demolished anyway. Thanks to a mutual friend on the Largo Police force who has contacts in the PCSO, he got a head start on the demo  – for free.
"The Largo SWAT team did an exercise here about 8 weeks ago, and the Safety Harbor Fire Department used it for practice drills just a couple of weeks back," Barge, who also owns the empty lot next to the house, said. "I figure if I'm going to demolish the home anyway, I might as well let these guys use it first."
He said he plans to have the whole house torn down next week, long after the SWAT team has vacated the premises, and then he will look into what kind of business he can build on the property in the future.
"I'm a resident of Safety Harbor, not a developer," Barge said. "I'm going to engage my fellow citizens and make sure whatever I build here will fit in with the overall picture of downtown."
But on this day, the talk wasn't about buildings going up, but cinder block walls coming down.
As the team prepared to huddle up and go over what went right and what went wrong with the arrest and search warrant drill, Capt. Luben said the action served a valuable purpose for all parties involved.
"This is a typical neighborhood we go into for something like this, so it helps us train and it also helps us protect the community," he said.