Students Learn About Safety Harbor Government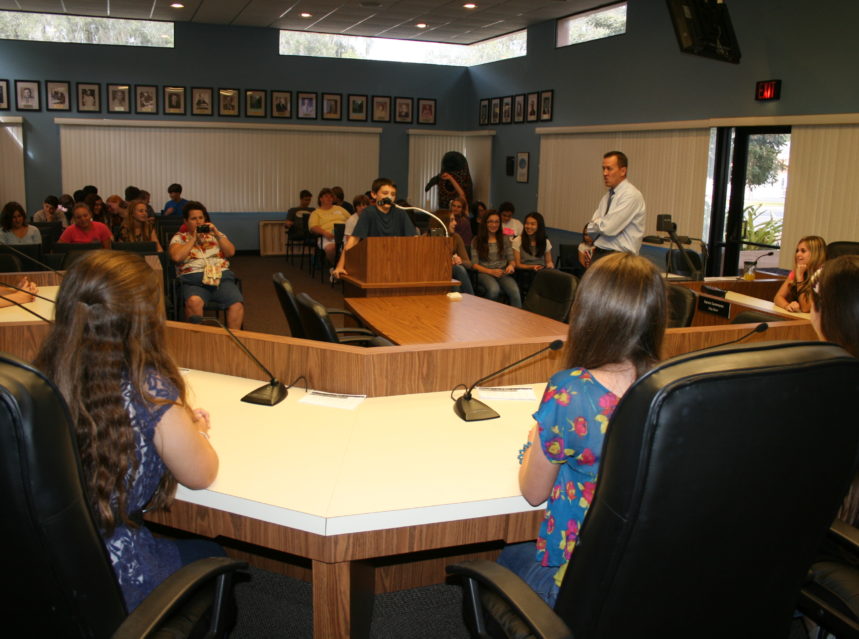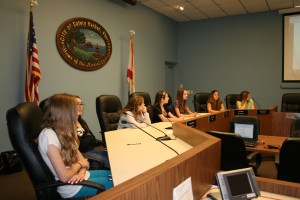 A number of students from Safety Harbor Middle School are getting the chance to see first hand how city government works as part of a School to City Connection initiative.
Last week, 45 students from Stephanie Martanovic's 7th grade Civics class visited Safety Harbor City Hall.  There they listened to a 30-minute presentation on how the city government operates by City Manager Matt Spoor before they got to participate in a mock City Commission meeting.
The students also visited Mullet Creek Park in September and learned how a vacant lot is turned into a vibrant community asset.
Dean Harmeson, the Chair of the Student Advisory Council, said the class is designed to teach civic-minded students the inner workings of City Hall.
"This initiative is designed to increase the student's awareness of the day-to-day operations of the city," Harmeson told Safety Harbor Connect via email. "They get to learn interesting facts about the city that they didn't know."
"We have had a great response from the students," he added. "They seem to enjoy these field trips."
The kids obviously benefit the most from the knowledge they receive about subjects they are interested in.
But Spoor seemed to get as much from the class after seeing how inquisitive and thoughtful these potential future leaders really are when it comes to city government.
"I was most impressed by the questions the group asked," he said. "The teens had very specific budgeting questions and were interested in our stormwater system and the recent improvements to South Bayshore."
"I am glad Dean approached the City with his idea and look forward to working with the Middle School on growing this program for years to come," the city manager added.  "Civic minded and local government aware teens grow into civic minded and local government aware adults, and that's a great thing!"
Harmeson said he plans to hold one SAC field trip per quarter, meaning there will be two more civic sessions for the students this school year.
"We want to teach them that they can take an active role in the city and their community, by understanding what the city government provides and how they can influence city leaders by voicing their opinions."
Note: A previous edition of this article misidentified Harmeson as the teacher of the civics class. The article has been edited to reflect the correct teacher as well as Harmeson's position.