Safety Harbor to host historic preservation summit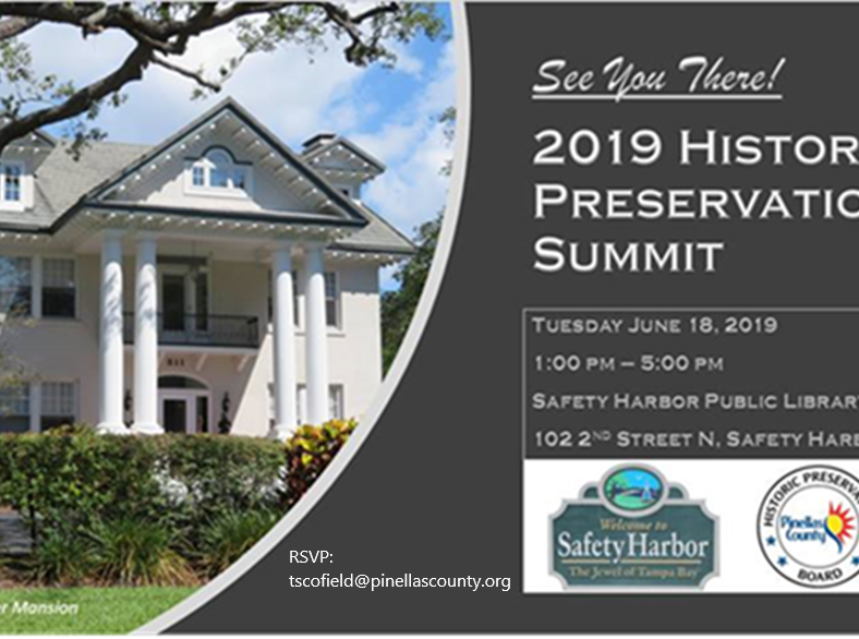 The Pinellas County Historic Preservation Board will host its annual Historic Preservation Summit at the Safety Harbor Public Library from 1-5 p.m. Tuesday, June 18.
The Summit will have presentations about Safety Harbor and Pinellas County on topics of local history, archaeology and architecture, among others. Local authors Laura Kepner and Warren Firschein are among the scheduled speakers.
The free event is open to the public. Seating is limited, so RSVP to: tscofield@pinellascounty.org.
Here is the full agenda:
1-1:30 p.m.: Sign in & Networking
1:30-1:45 p.m.: Welcome, Charlie Justice, Historic Preservation Board Chairman and Pinellas County Commissioner.
1:45-2:25 p.m.: The Lure of Lore: Safety Harbor's Twisted History, Laura Kepner & Warren Firschein, co-authors of a Brief History of Safety Harbor
2:25-3:05 p.m.: Remembering Tocobaga: Recent Archaeology at the Safety Harbor Site, Thomas J. Pluckhahn, PhD, Department of Anthropology, University of South Florida
3:05-3:30 p.m.: The Architecture of Safety Harbor & The Downtown District, Vic Curti, Director, Pasquale Design and chairman of the Safety Harbor Planning & Zoning Board.
3:30-3:45 p.m.: Break & Refreshments
3:45- 4 p.m.: Preserving Recreational Open Space, Ron Stephens, Save Our Tides
4-4:15 p.m. Historic Marker Program – Alive & Well in Safety Harbor, Joseph Caisse and John Peter Barie, Historic Preservation Board member.
4:15-4:45 p.m.: Pinellas Historic Preservation Board, Annual Report, Tom Scofield, AICP, Preservation Planner, Pinellas County Planning Department.
4:45-5 p.m.: Summit Follow-up: Report on Past Events & What the Future Holds, John Peter Barie, Historic Preservation Board member.
5-6 p.m.: Reception and Tour, Safety Harbor Museum & Cultural Center, 329 Bayshore Blvd.