Safety Harbor Softball Squad Qualifies For National Championship
A local softball team comprised of 11 and 12 year olds from around the area – including a trio from Safety Harbor – is heading to Indiana to play for a national championship this summer.
The Safety Harbor Stone Crabs earned a trip to the prestigious Amateur Softball Association 12-and-under tournament by defeating the Florida Bat Busters by a score of 5-3 on December 7, becoming just the second team from Pinellas County to qualify for the national championship.
The victory was the perfect way to cap off a long season in which the elite travel team went 82-37-2 and won several major tournaments.
"The whole experience has been incredible," Coach Gary Kifer recently told Safety Harbor Connect. "It's far exceeded our expectations."
Founded in 2011 by Kifer and John Galloway, both former Safety Harbor Little league coaches, the team uses the Eddie C. Moore Complex in Clearwater as its home base, thought it is rarely at home during the prolonged seasons.
The Crabs' season stretches from February to December and features long weekends traveling to tournaments in and out of state, playing multiple games in a weekend with plenty of practice time, not to mention the girls' school work and the coaches regular jobs, mixed in.
Kifer admitted the grind can be a bit much sometimes.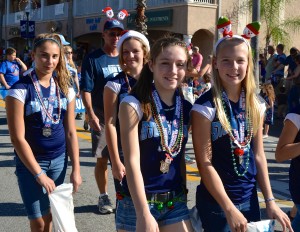 "We played 121 games last year, and more than that this year," he said of the 2012 and 2013 seasons. "There really is no offseason."
"It's a little much – it could be considered child abuse," he joked. "But the kids love it."
Despite the time commitment, Kifer said it's worth it after a season like this when the team has the opportunity to reach the pinnacle of its sport.
"I played football and baseball at a high level and have coached for many years, and I never had an emotional high like the one I got from us making it to the championship," Kifer said.
"Someday the kids will look back on this and say it was the best times of their lives."
To follow the progress of the Safety Harbor Stone Crabs as they begin their 2014 season and march to the ASA national championship in August, visit the team's website.