Safety Harbor Singer Songwriter Festival Lineup Set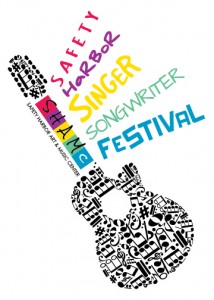 The Woodstock music festival that took place in upstate New York in 1969 was billed as 'three days of peace and music.'
While organizers aren't claiming next week's Safety Harbor Singer Songwriter Festival will be nearly as big – or crazy – as that legendary event, they are hoping their three-day festival helps put the town on the map as far as being a destination for talented musicians to play in the Tampa Bay area.
The brainchild of local artists Kiaralinda and Todd Ramquist, the pair have been planning the festival for more than a year, and now that it is one week away, they are busy putting the finishing touches on what promises to be a memorable event.
"After a year of planning, we're ready," Ramquist recently told Safety Harbor Connect.
"We've got 31 acts with more than 50 musicians coming to town beginning early next week, and in addition to playing the festival many of them will also be playing smaller gigs around town."
Indeed the unique thing about this event is the fact that it will not be contained, or constrained, by a set number of days or venues.
The main part of the festival will take place next weekend, beginning with a free show at the Safety Harbor Museum and Cultural Center on Friday night followed by two full days of concerts and activities at the city's waterfront park over the weekend. Tickets cost $40 for a weekend pass and $25 for individual day tickets, which can only be purchased at the event.
But in addition to the headlining sets, many artists have agreed to play other shows at various locations in town, from the John Wilson Park Gazebo to a number of local bars and restaurants.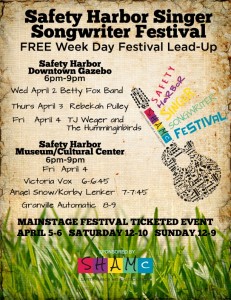 "Most of the artists are getting here during the week, and they're interested in playing at other places in the community," Ramquist said.
"So they'll be playing at places like the Gazebo, 8th Avenue Pub, Brady's and Nolan's on Wednesday, Thursday and Friday as a lead-up to the festival."
The influx of musicians – many of whom are critically-acclaimed with large fan followings such as headliners Jim Lauderdale and Ben Taylor – is expected to bring a number of visitors to the city to see their favorite acts.
Ramquist expects that support should lead to a boost in business for many merchants in the area.
"One thing unique to our festival is a lot of these artists have big fan followings, and many of them have never played events in this part of the South," he said. "So they will be bringing a lot of people to Safety Harbor who have never been here before."
"Eighty percent of the artists are staying within the community," he added. "So our idea was to benefit the businesses by getting everyone involved."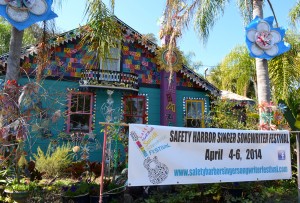 With the planning stage nearly complete, thanks to the assistance of a veteran event planner and nearly 300 volunteers, Kiaralinda and Todd said they are ready for the event itself to begin.
Then, following a much needed rest period, they will start working on next year's festival.
"This year we knew many of the artists already, so that made planning it a little easier," Kiaralinda said. "After this year we will know even more of them, so it should be even easier next time."
"We've already had reps for 50-60 artists contact us saying they want to part of next year's festival," Ramquist added.
"The word-of-mouth buzz for this event is very strong."
For more information on the Safety Harbor Singer Songwriter Festival, including ticket and lineup information, visit the event website at www.safetyharborsingersongwriterfestival.com.