Safety Harbor Little Free Library Scavenger Hunt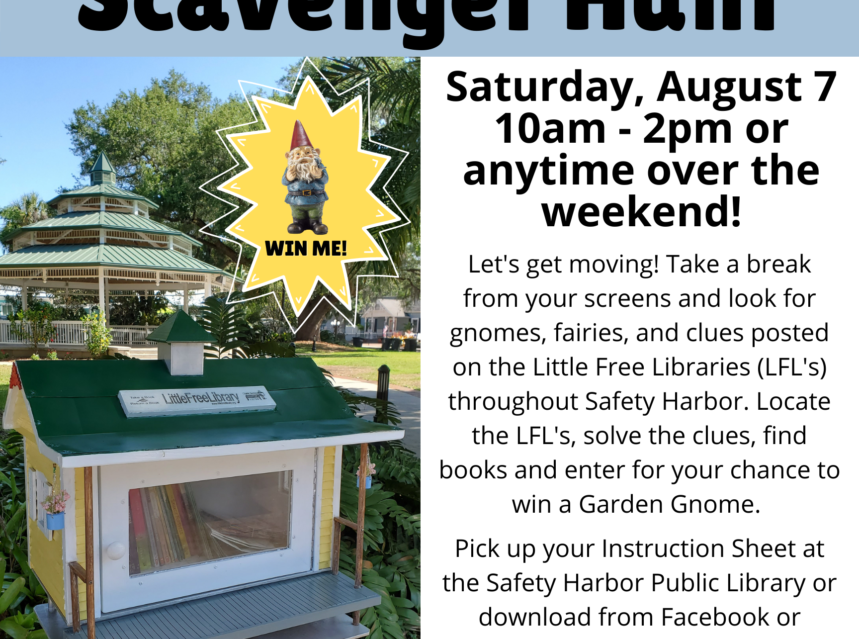 Take a break from your screens and look for gnomes, fairies and clues posted on Little Free Libraries in Safety Harbor on Saturday, August 7, 2021 from 10:00 AM to 2:00 PM, or anytime convenient for you over the weekend.
Pick up your free Unplugged Smartphone Napsack and instruction sheet at the library or download the sheet here: https://cityofsafetyharbor.com/DocumentCenter/View/15174/LFL-Scavenger-Hunt-Participant-Sheet Then locate the Little Free Libraries, solve the clues, find books, and when finished, enter for a chance to win a Garden Gnome by dropping off the last page of the instruction sheet at the library. Note: The Library closes at 5PM on Saturday, so drop off before then or by Tuesday, August 10, by 8 PM to be entered in the Garden Gnome drawing.
If you downloaded the instruction sheet and didn't pick up your free Unplugged Smartphone Napsack at the library, courtesy of the Unplug Collaborative prior to the scavenger hunt, you can pick it up when you drop off your entry.
The Library is located at 101 2nd Street North, Safety Harbor. Call 724-1525 x 4106 for more information or visit www.SafetyHarborLibrary.com.