Safety Harbor Election Candidate Profile: Ray R. Irvin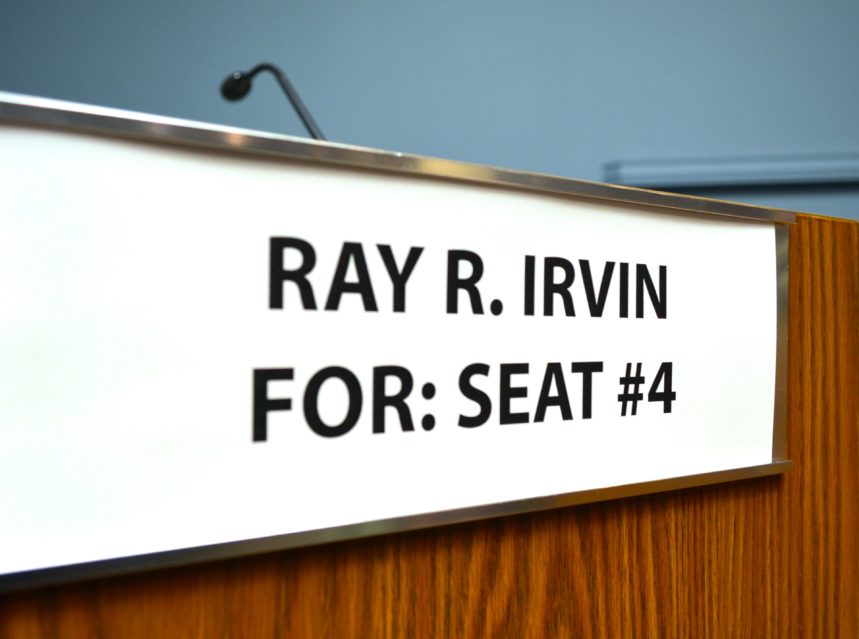 This is one of seven 2014 Safety Harbor municipal election candidate profiles conducted by Safety Harbor Connect. The city election will take place on Tuesday, March 11. There is a candidate forum on Wednesday, Jan. 29 at City Hall.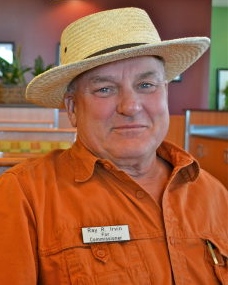 BIO:
Name: Ray R. Irvin
Running for: Commission Seat #4
Age: 67
Place of Birth: Indianapolis, Indiana
Lived in Safety Harbor since: 2010
Professional History: Lt. Col., US Air Force; consultant for the US Army Corps of Engineers; City of Indianapolis Department of Parks and Recreation administrator; Director of Greenways, Bikeways and Blueways, State of Indiana; President of Streetscapes, Inc.; partner in Ray R. Irvin & Assoc. LLC; certified master marine surveyor licensed mechanic and captain for Polaris Marine Services.
Elected Office History: City Council District 21 (Ind.); White River state park commission (Ind.); Indianapolis Greenways Development Commission; Ohio River Greenways Commission; Wabash River Heritage Corridor Commission; Safety Harbor financial advisory board; vice president, North Bay Hills Neighborhood Association (Safety Harbor); ran for Safety Harbor City Commission in 2012.
Volunteer/Organizations: American Legion Post #238; VFW Post #333; Aircraft Owners & Pilots Assoc.; Dunedin Boat Club member; Save the Dunes Foundation; Indiana Bicycle Coalition; Pinellas Trail Committee; Dunedin Bike Route Planning Committee; Boy Scouts of America life member.
Five Questions Regarding Your Candidacy:
1. What made you decide to run for office?
I decided to run because I'm interested in serving, not because I want to run. People in the community asked me to run, so I am. You don't do this because you want power. You do this because you care about where you live.
I  was underfunded in the last election, and there were three people running and two of us split the vote. I think this is going to be a critical election, because you have one side that's pro-development and one side that wants to keep it small-town.
2. What part of your personal or professional experiences make you believe you are suited to run for public office?
In Indianapolis I was a city councilman, served on the parks and rec board, the zoning committee and I was the director of greenways and bikeways for 92 counties. I've got a long history of public service.
I've spent my life working in politics, and I've not always agreed with everyone. But at the end of the day, we're not supposed to like each other, we're supposed to create the best city government we can. I'm not a bridge burner, I'm a bridge builder. When it comes to running our government, it's not personal, it's business.
3. What do you believe are the biggest issues affecting the community today and where do you stand on them?
One of the big issues facing our city is what do we want our city to be – small town or urban sprawl? We have a very high quality of life here, and developers see that and want to sell it as part of their projects. I doing so, they're going to destroy our quality of life. We have to continue to be a residential community. Renters are fine, there are renters here, but residential homes are what this community is all about.
Regarding the Firmenich property, I believe there are better projects that could go there, not high-density rental apartments. I don't think it was fair to say Walmart could come and build a warehouse there. McMullen Booth Road doesn't support that. I wouldn't mind seeing residential homes or low-density condos. I don't want to see urban sprawl there. I'd like to see more preservation.
As for the waterfront park, Safety Harbor will never have another opportunity to acquire another property like that. It's extremely vulnerable to hurricanes and high water, etc…I don't see the people of safety Harbor turning it over to developers. If we put a band shell there and bring in bands, comedians and invite the community to have a picnic on the lawn, it could be a fabulous place to convene the community.
Downtown I don't believe we need to do high-density development. We've been through ten years of recession, and we're just starting to recover. That has limited people from doing things. It's starting to change, but that doesn't mean development is going to save us. Let's be selective.
4. What are your goals for the City and the Commission should you be elected?
One of my number one goals is to convene a community conversation about what do we want Safety Harbor to be – do we maximize development or maintain the small-town community feel. What is the strategic plan for the next 20-30 years? That needs to be done.
The growth industry for this country is going to be centered around people retiring. Where do those people go? I think Safety Harbor should be one of the ten best places in America to retire. These people want a small town, centrally located that's interested in arts, politics and community. You've got a town here that can attract these people. We have a draw here.
I'd also like to resolve the issue of absentee ownership and foreclosure property issues to make sure properties are being maintained to a certain community standard. When the property owner violates this standard, the city should have the right to correct the problem and charge it to the owner. I did this in Indianapolis and they adopted the policy. I want to somehow, at the city, county and statewide level, create a law that says the property owner is responsible for maintaining their property to a community standard.
5. Any additional thoughts or comments?
I'm a fiscal conservative, a social moderate and a cultural libertarian. I believe in low taxes, being good to each other and do what you want as long as it doesn't hurt other people. I think it's okay to saw where you stand, but don't be inflexible to change.