Safety Harbor Candidate Pool Keeps Growing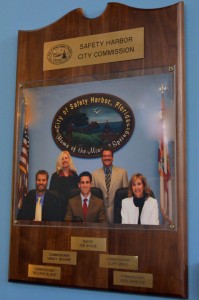 On Tuesday, Safety Harbor City Commissioner Nancy Besore sent a letter to City Hall announcing she would be resigning her position, effective March 17, in order to run for mayor in the 2014 municipal election, to be held on March 11.
That decision, coupled with recent announcements by Mayor Joe Ayoub and Commissioner Nina Bandoni regarding their political futures, has had a ripple effect on the city's candidate pool, which just a week ago was as calm as a mountain lake but has suddenly turned into a swirling eddy.
Following a special City Commission meeting held on Wednesday morning to adopt the resolution adding Besore's Seat #3 to the March ballot, P&Z board member Dean Harmeson, one of the two candidates who had registered to run for Bandoni's Seat #4, switched his candidacy to Seat #3.
Later in the afternoon, another candidate threw his name in the ring for Seat #4 – Ray R. Irvin, a longtime city official in Indianapolis who ran for Safety Harbor City Commission last November. Irvin joins local businessman and former Major League Baseball player Carlos Diaz vying for Bandoni's open seat.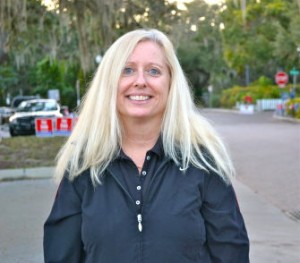 All the activity has turned what looked to be a fairly uneventful election into something of a competitive free-for-all.
Just two weeks ago, there were three candidates (Ayoub, Harmeson and Diaz) vying for two open spots (Mayor and Seat#4).
Today, there are three openings and five candidates, with two members of the commission sure to be out of office come March -Bandoni and either Ayoub or Besore. Conversely, there definitely will be two new faces sitting at the semi-circular City Hall desk next spring.
For his part, Mayor Ayoub said the more candidates, the merrier.
"With all the candidates stepping forward, it's great for the city," he told Safety Harbor Connect. "The more people who participate in the political process, the better."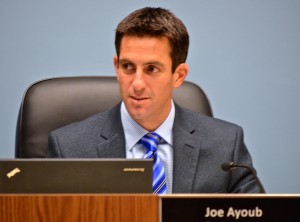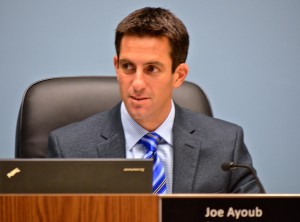 He also said his and Besore's campaigns, which both candidates vow will be clean and respectful, will allow voters to make clear choices as to whom they want to lead the city.
"It's nice to run against someone who you know where they stand," he said. "Her positions are clear. My positions are clear."
"I think it's great the voters will have a clear choice with both the vision and leadership style of who they want to run the city."
According to the City Clerk's office, here's a breakdown of who is currently registered to run, and for which spot, in the 2014 Safety Harbor municipal election:
Mayor:
-Joe Ayoub
-Nancy Besore
Commissioner – Seat # 3 (1 year term):
-Dean Harmeson
Commissioner – Seat #4 (3 year term):
-Carlos Diaz
-Ray R. Irvin
Stay with Safety Harbor Connect for complete coverage of  the 2014 Safety Harbor municipal election, including candidate profiles, announcements, candidate forum coverage and any breaking news.
Related stories: