RIGSBY CENTER'S FIRST ANNUAL VOLUNTEER AWARDS CEREMONY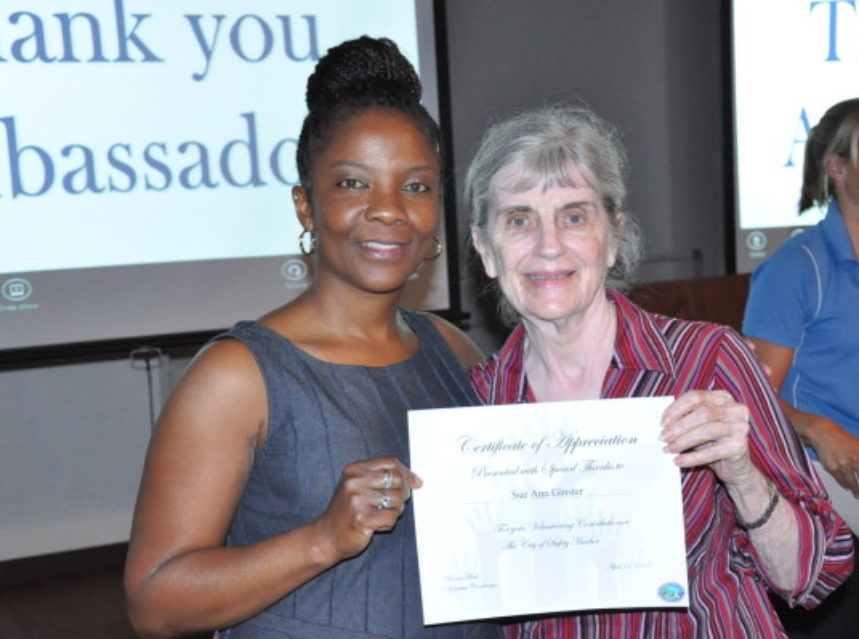 I was fortunate to be invited to the Annual Volunteer Awards Ceremony held at the Rigsby Recreation Center recently, and was inspired by the myriad of dedicated people I met who volunteer their time and efforts for so many wonderful causes. Organized by one of the sweetest women you'd ever have the fortune of knowing, Donna Mack, the awards ceremony was inspiring. The highlight for me was having the chance to listen to excited volunteers speak about their causes. I was intrigued by so many original ideas that people had come up with and put in place to help their neighbors. It was exhilarating!
When I arrived, I found the beautifully decorated room full of people greeting each other with an air of enthusiasm that added to the already high level of excitement. Prior to the event starting, I was fortunate to have the opportunity to learn about two groups I wasn't previously aware of. The first is WHO, Women Helping Others, an organization started by residents that sponsors potluck fundraisers and then donates proceeds to local volunteer efforts. I'll try to post an update prior to their next potluck event – if anyone reading this knows, please leave a comment!
A recent recipient of WHO's generosity was Paint Your Heart Out, a local group that each year chooses four or five Safety Harbor homeowners in need of a bit of neighborly support. With the help of volunteer crews, one day each Spring they work with those homeowners to repaint the outside of their house. I'll share more about their Spring 2016 efforts and how you can get involved as next year's date gets closer.
I also was lucky enough to have the chance to explain to others about the group I'm involved in, the Safety Harbor Needlework Club, which offers instruction in knitting and crocheting to those interested in creating items for organizations to use directly in either their core efforts or in fundraising. With materials donated from our supporters or purchased through our own fundraising events, our members have made items such as toys, dog sweaters and cat beds for the Humane Society of Pinellas, lap blankets and shawls for wheelchair-bound patients of Suncoast Hospice, and mittens, booties, blankets and ponchos for the young patients at Shriner's Children's Hospital. Anyone out there interested in learning more (or donating that old bag of yarn that's been taking up closet space) can stop by Rigsby.
One particular volunteer stood out due to the way so many others spoke of her. She's a person who has been working with the Park Pals Tutoring program for six years and is referred to by her many admirers as Miss Sue. Though I only had the opportunity to say a quick hello, a number of people shared with me that Miss Sue is one of those rare people who has a smile for everyone. In the years she's been volunteering as a tutor, she's endeared herself to the children of Safety Harbor Elementary, many of whom eagerly look forward to her weekly visits. Kind and patient, she works with children as they struggle with educational challenges, whether that be mastering a new subject or making the principal's honor roll.
I'd like to extend a special thank you to all our Safety Harbor volunteer groups for their hard work and dedication, and particularly to Miss Sue and those who spend their time and energy supporting our kids.
Coming Soon: more about other clever volunteer ideas that have germinated in our little hamlet. Meanwhile, feel free to leave comments and share details about any of the volunteer groups that you're involved with in our community. If you'd like to contact me to highlight a particular group, leave a comment asking me to email you directly for more information and I'll do so.
~written by Barbara Ulmer, Safety Harbor resident blogger