Nolan's Pub St. Patrick's Day 5K: What You Need To Know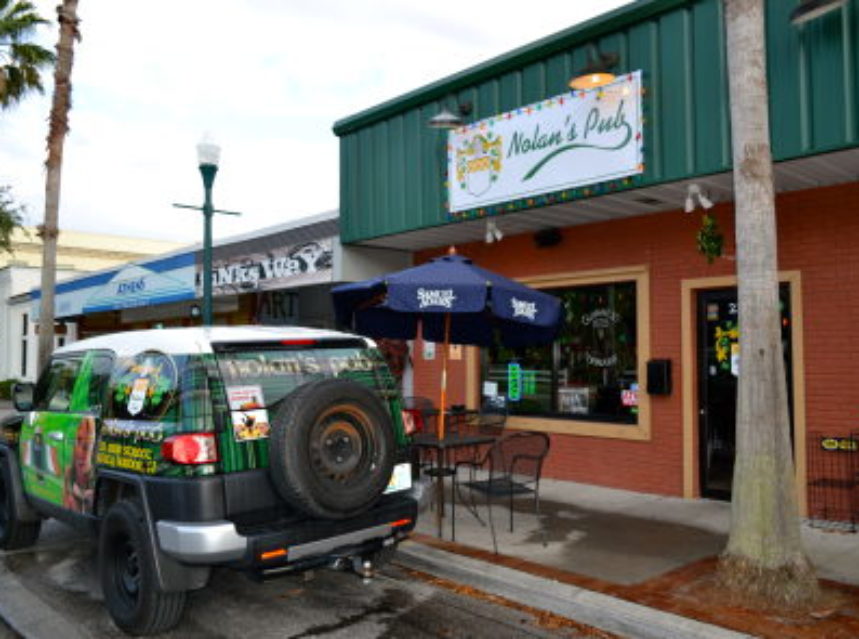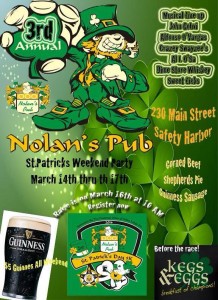 St. Patricks' Day might fall on a Monday this year, but for the folks at Nolan's Pub, the holiday weekend kicks off Saturday night.
That's when participants can pick up their entry packets for the second annual Nolan's Pub St. Patrick's Day 5K, a combination road race/St. Patty's party that serves as a benefit for the Pinellas County Fraternal Order of Police Lodge 43.
Pub owner and event organizer Craig Davide is asking race participants to come to his Main Street establishment this evening starting at 6:00 to pick up the entry packets to ensure things go as smoothly as possible on Sunday, when the race will begin at 10 a.m.
"We have 446 participants signed up so far as compared to 353 last year," Davide told Safety Harbor Connect.
"Last year we had almost 100 people sign up the day of, so we want to get as many people to pick up their packets on Saturday night to make things easier on Sunday."
Participants can also register for the race at the pre-party, and at a lower cost than on race day; tickets are $25 on Saturday, $30 on Sunday.
The St. Patty's Day festivities will commence as soon as the 5K is over early Sunday afternoon.
A post-race party will take place afterwards, complete with a free beer (or root beer) for every racer, and the pub will have food, entertainment and plenty of green beer flowing all the way through Monday night.
"It's going to be a chance for everybody to have a fun time in downtown Safety Harbor," Davide said.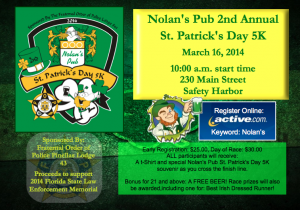 What To Know If You Go: Nolan's Pub 2nd Annual St. Patrick's Day 5K
Where: Nolan's Pub, 230 Main St. The race will wreave around the downtown Safety Harbor area and end back at the pub for a post-race party.
When: Sunday, Mar 16 starting at 10 a.m. (registration pickup party Saturday night starting at 6 p.m.)
Info: The family friendly race is a fundraiser for the Pinellas County Fraternal Order of Police Lodge 43, to help pay for their annual trip to the fallen officers memorial in Tallahassee.
Registration: You can register for the race in advance at the pub for $25. The cost goes up to $30 on the day of the race. All proceeds are going to the FOP Lodge 43.
Parking: Any of the public lots in downtown Safety Harbor, including behind the Harbor Pointe Complex on Main Street and Second Avenue. Street parking where permitted.
Contact: For more information, visit the Nolan's Pub website, Facebook page or call 727-400-6998.