Mayor, Two Commissioners Say Goodbye to Safety Harbor Service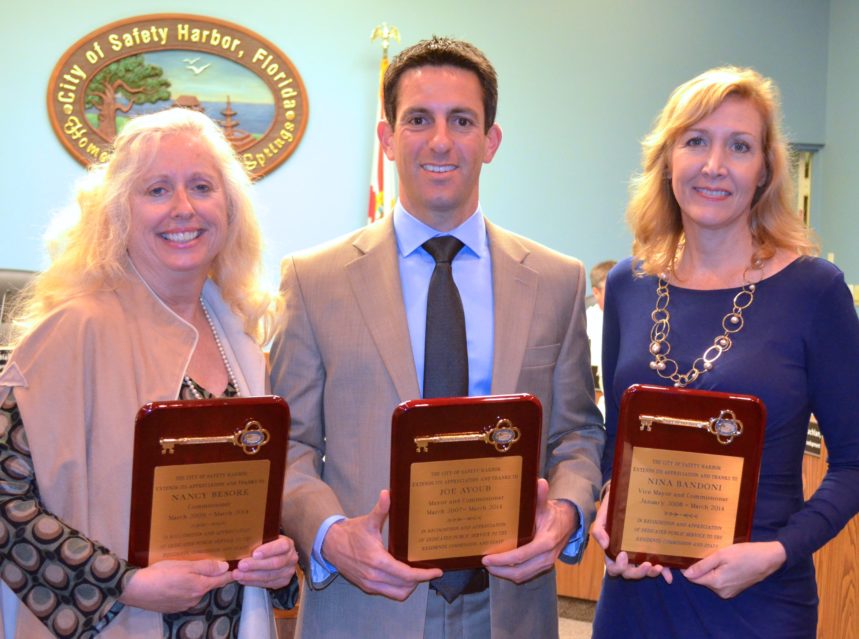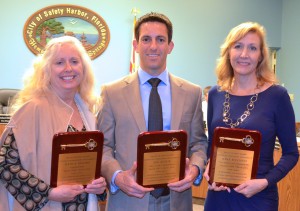 The political changing of the guard in small communities can often be a difficult process.
While the new faces (and, in some cases, familiar ones) are ready to step into the positions they were elected to by their constituents, there is always that awkward transition for those who are exiting their roles as public officials.
That situation was in full effect Monday night during the Safety Harbor City Commission meeting, only in this case the emotional quotient was multiplied by three, as Mayor Joe Ayoub and Commissioners Nina Bandoni and Nancy Besore all bid farewell to public office.
While the night's agenda was packed with important issues, such as designating funds for the fire department and allowing hotels and brewpubs to be built in town, much of the meeting was dedicated to honoring the departing officials.
"I just wanted to come up here and thank you guys," local resident and businessman Jim Barge said during the 'Audience to Be Heard' portion of the meeting. "I know there's a changing of the guard with the election…but I really wanted to ask that you guys focus on everything you accomplished in your terms."
"I just wanted to take a moment to say thanks as well," new resident Tony Perez added. "(Safety Harbor) has a bright future, and that bright future is based on a lot of work and success Joe and the people in front of us today have done over the last five years."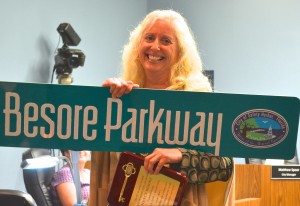 Prior to tackling the agenda, the commission honored Nancy Besore, who due to a legality had to step down following the last meeting as part of her decision to run for mayor.
"I just want to say, on behalf of the entire city, thank you for your five years of service to the City of Safety Harbor," Mayor Ayoub told Besore, who attended the meeting with friends and family members by her side. "I think you did an outstanding job."
"Even though we don't always agreeing on everything, there's definitely a lot I admire about you, and one thing I admired is  the way that you always fought for what you believed in," he added. "I admire the spirit and passion you brought to your role in the commission…and I admired your high level of integrity you've always shown."
Besore accepted the praise, as well as some parting awards, with humor grace.
"Mayor Ayoub, even though I challenged you, you know I respect you," she responded. "I appreciate the level of professionalism you showed in this campaign."
"It's really interesting being defeated – it's almost like being eulogized while you're still alive," she joked. "I learned I have 710 friends. A thousand of them disappeared, but I still have 710 friends!"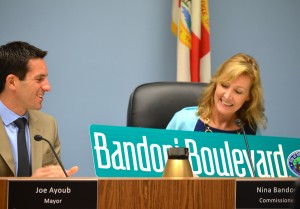 Once the agenda was completed, it was Bandoni's turn to be recognized.
"I would just like to take a moment to thank everyone, starting with Matt Spoor and the entire city staff. It's been a wonderful six years," Bandoni, who decided in December not to seek re-election, said. "The environment here for the staff is very very positive, and it's really nice to see them shining and making this city a beautiful place to live and work."
"I'd also like to thank my fellow commissioners, both the present and the past," she added. "Sometimes we've disagreed, but we've always come away shaking each other hands and remaining friends through it all."
Finally, it was Ayoub's turn.
"Over the last two years, I've been very honored to be able to work with you," Commissioner Cliff Merz said as he presented the outgoing mayor with a plaque and a street sign.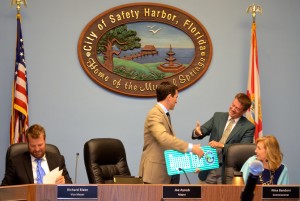 "After the election…I was vey taken by not only your honesty but by the fact that as a religious man, you said you understand how all this stuff works. To me that is a very nice testament."
"You're driven, you're accountable and you're fair," Spoor added. "As a commissioner and mayor, you served through some difficult times…and had to make some difficult decisions."
"You ensured that regardless of the outcome, the political policy process was fair and balanced, and the residents of Safety Harbor thank you for your years of service."
Ayoub, who lost last week's election to former mayor Andy Steingold by less than 100 votes, was reflective and complimentary in his final speech in office.
"Let me start off by saying it's been one of the greatest honors and privileges of my life to be able to serve the city of Safety Harbor for the last seven years," he said. "I've given a lot but more importantly, the city and all the people who make up the city have given a lot more back to me in return."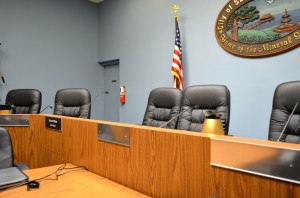 He went on to thank his fellow commissioners, city employees and volunteers before banging the meeting-closing gavel for the last time.
"I'd like to congratulate Andy Steingold, Carlos Diaz and Andy Zodrow for their victories in this past election. I am confident they will do their best to keep the city moving in the right direction."
"And I'd also like to thank everyone who helped me out with my campaign. Even though we fell just a little bit short,  I encourage everyone to stay involved and continue to make a positive difference in our community."