"Honk If You Feel Strongly About The Rights Of Property Owners"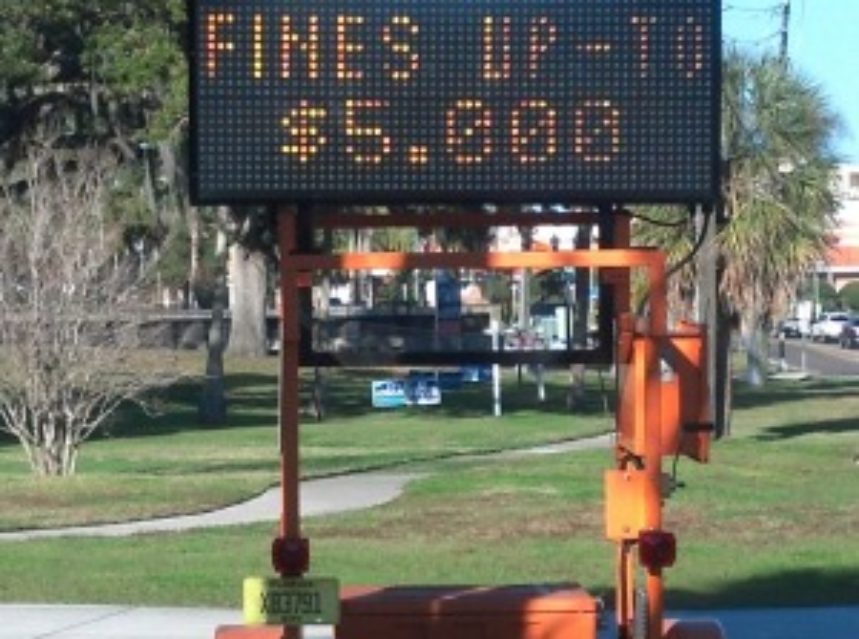 Tell me I am not alone.  Tell me there are others in Safety Harbor experiencing inexplicable urges to print 20 excess pages on the copier, buy wooden pencils, switch from china to paper plates and heat their home (deep into summer) with firewood.
If you are among those suffering from similar annoying symptoms, please, on the way to vote in next month's city election,  repeat after me: "Tree people, take a chill pill."
Honestly, who does not like trees?  When was the last time you heard anyone complain, "Gosh-darn trees, where's Paul Bunyan when you need him?"
Trees play a role in reducing erosion and moderating the climate. Trees remove carbon dioxide  from the atmosphere and store large quantities of carbon. Trees provide shade. All good things.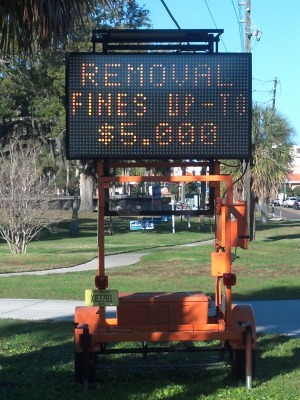 They also often become diseased and dangerous,  breaking apart and crashing through the living room window — rarely at opportune times.  They do, however, make great firewood — which Safety Harbor will lead the league in producing the very next time a hurricanes blows through because so few receive care and maintenance.
All of which means that trees, just like pretty much everything in life,  have pros and cons.
So, will some of you quit trying to shove a scrub oak down my throat?
Apparently not.
As late-afternoon traffic makes its way home along Bayshore Blvd., campaign-sign waivers for Safety Harbor city commissioner candidates Andy Zodrow and Janet Hooper also push a secondary message: "Honk if you love trees."
Not to horn in, but here's an idea I like better: "Honk if you'd like to see Safety Harbor's downtown invigorated so  merchants survive and the city prospers."
Or "Honk if you want your promised Waterfront Park." You know, the property that three years ago cost taxpayers $2.75 million, but (despite stated desires and a citizen-written plan to create a shore-side recreation prize) remains an unused waste.  In three years, we have progressed all the way to  debating the impact of simply allowing benches on such hallowed ground — obviously, making "sit and watch grass grow" a local recreation.
Or "Honk if you feel strongly about the rights of property owners. Stop the effort to increase required setbacks to as much as 30 feet simply to make construction more difficult and require new homes to look like someone else believes they should."
It's enough to make Euell Gibbons choke on his pinecone.
Just like a well-worn shoe, Safety Harbor may be comfortable, but still needs to be re-soled and polished. It needs a kick-start. It needs revitalization.
That does not mean  anyone  wants to pave paradise. It only means the city needs managing and direction. It needs care and feeding — from leadership with eyes open, not closed minds.
Again, who does not like trees? Personally, as hobbies go, I'd rather be landscaping and digging in dirt than fishing or playing golf. Plants and flowers are a passion. Yet, for the life of me, I cannot grasp how the idea of Safety Harbor's stagnation sounds like a good idea. Yes, appreciate our trees. Just don't weed kill Safety Harbor's future opportunities while doing it.
I must, however, give it up for those who push that agenda. They have performed an Amway-level sales job on some — even if it has meant stretching the truth to a point that not even Brian Williams would report such a story.
This, however, is not fiction: Planned, controlled growth is not evil. As a matter of fact, Safety Harbor will have no productive future without it.
The new town homes on Second Street South are a beautiful replacement of an abandoned, falling-down, varmint-infested house. The under-construction Iron Age homes will add upscale class to a previously empty block.
Both will bring a boost to local merchants and, with a little help, attract more businesses, which will generate more attention for Safety Harbor.
That's a problem?
I'm starting to think it's not because opponents are  green for trees. It's because they are green with envy.
Think about this:  It's dinner time and the family salad needs tomatoes. In downtown Safety Harbor, you will have about as much chance to find a veggie as you will a Fifty Shades of Grey Starter Kit.
Had you have been visiting the area 175 years ago, you could at least have picked up a grapefruit from Odette Philippe's roadside stand, but now Safety Harbor doesn't even have a  market.
We're going in the wrong direction.
City commission candidates Joe Ayoub and Chris Logan believe planned growth is the answer. Candidates Zodrow and Hooper apparently do not and have welcomed the Tree People to set up camp in their respective ears.
This news just in: Big development is not going to suddenly slip into town one night and steal Safety Harbor's quaintness. Even if it wanted to, Safety Harbor never will be "a concrete jungle." It will never be home to a Super Walmart.
What it can be, with MANAGED GROWTH is a much more enjoyable, productive, inviting community where there will be more to do than just sit around and throw another log on the fire.     ~Mick Elliott