Florida's Healing Waters Online Book Talk with Author Rick Kilby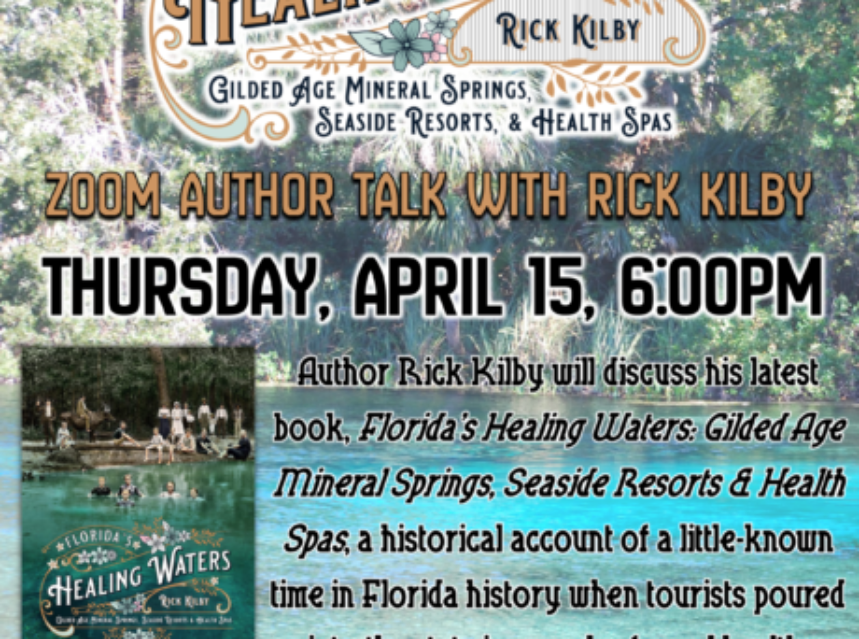 Florida author Rick Kilby will discuss his latest book, via Zoom, Florida's Healing Waters: Gilded Age Mineral Springs, Seaside Resorts & Health Spas, Thursday, April 15, 6:00 pm. Registration is required with the Safety Harbor Public Library at https://events.safetyharborlibrary.org/events/floridas-healing-waters.
Florida's Healing Waters is an historical account of a little-known time in Florida history when tourists poured into the state in search of good health. The book, filled with rare photographs, vintage postcards, advertisements, and fascinating descriptions from over 100 years ago, explores the Victorian belief that water caused healing and rehabilitation. Rick Kilby shows how Florida's natural wonders were promoted and developed as restorative designations for America's emerging upper class, including Safety Harbor Resort & Spa's Espiritu Santo Springs.
Rick Kilby's previous work, Finding the Fountain of Youth, is an award-winning account of how the myth of the fountain of youth has shaped our thinking from Ponce de Leon to Florida's 21st century struggles to protect its waters.
The Library is located at 101 2nd Street North, Safety Harbor. Call 724-1525 x 4112 for more information or visit www.SafetyHarborLibrary.com.