Finding the Sweet Spot in Safety Harbor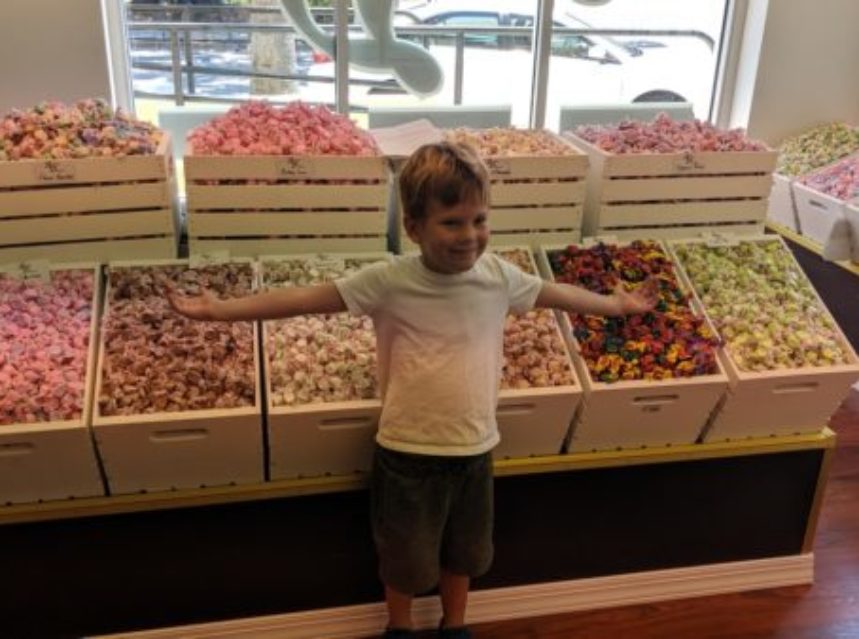 You may have noticed yourself drooling a little bit more than usual around the four-way stop sign at Main Street and Phillippe Parkway. Don't be alarmed. You don't have to schedule that visit to the dentist – just yet. The opening of Rocking Delicious, the Sweetest Corner in Safety Harbor is most likely the culprit. "Chocolates, candies & more…" is their slogan, but the "& more" really is what it's all about for Thomas and Hanna Engstrom, founders of the newest addition to Safety Harbor's eclectic and charming downtown scene.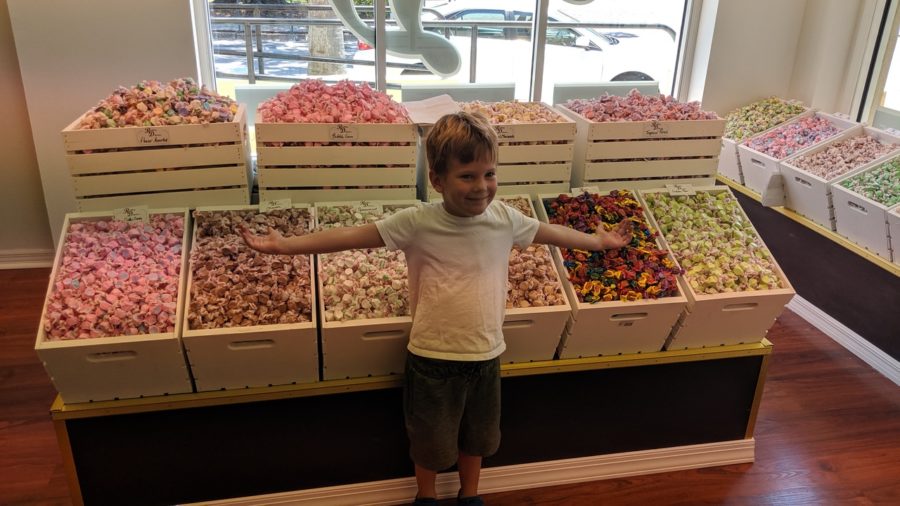 But why a candy shop? Well, why not? Coming from Sweden with over ten years in the candy biz under Thomas's belt, and a background in marketing under Hanna's, it makes perfect sense. One walk through the sparkling glass doors will instantly make you into a believer. Or, literally into a kid in a candy shop. There are barrels of colorful salt-water taffy from the Taffy House in flavors like cinnamon roll (currently their most popular flavor), cupcake and rum. Gleaming glass jars overflow with everyone's old-fashioned favorites like licorice and chocolate covered malt balls; alongside novelties that may need further explanation, like a full foot and a half of gummy worm deliciousness.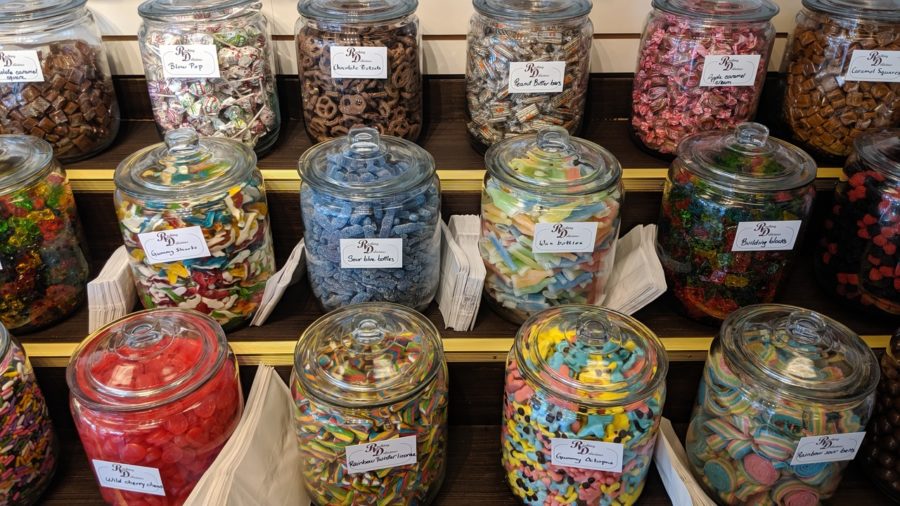 "We're willing to give samples so people can see and taste what they're buying. We know they may not know what a crunchy-candy-coated-gummy-bear is like before they buy and we want them to have the experience." Thomas and Hanna explain.
It is obvious they are looking to please the customer. The place is immaculately clean and customer service is stellar. You are greeted immediately upon entering with smiling, happy faces who are knowledgeable about their sweets. Lorena, a staff member, a local who worked in the space before it became Rocking Delicious, shows me around a bit and I see additional, wrapped options placed around the bulk candy. Gummy sushi shaped candy, baseball themed chocolates and even long stemmed chocolate roses can be purchased for those who love sweets and a bit of whimsy. And let's face it, who doesn't?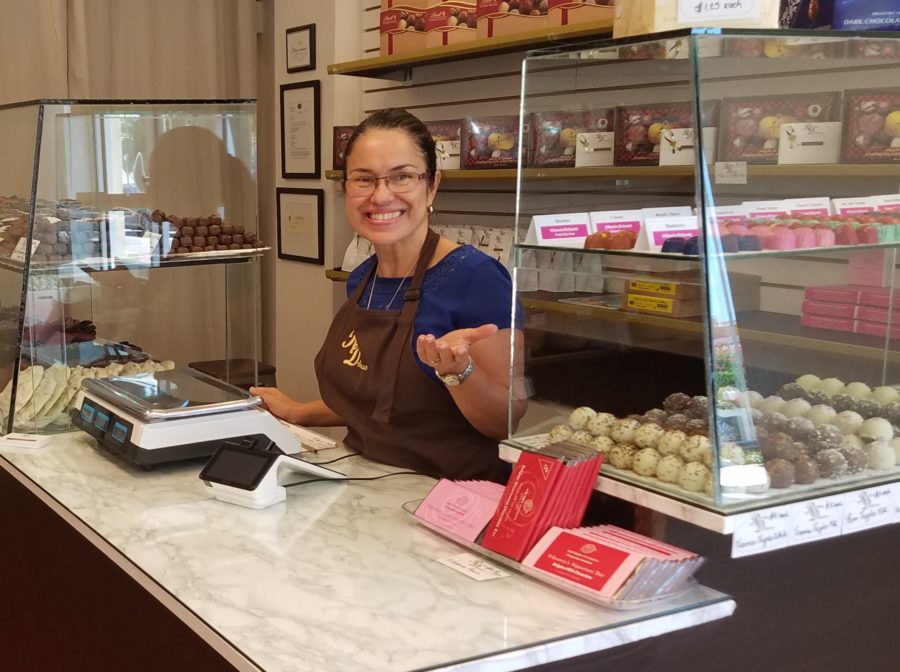 "We met Lorena when we were looking at the space, and wanted her to stay. She was here when this shop was Eduardo's. Her daughter Daniella works here, and Kingsley, a son of local family friend. We wanted to keep that family feel we felt when we first came," state the Engstroms and their enthusiasm for the community will certainly leave you feeling like a warm butterscotch candy inside.
The Engstroms make a point to focus on the locals. Coming from Sweden to their vacation home in Tampa for several years, they would visit Safety Harbor and knew it had a special vibe about it. About a year ago, they decided to make the permanent move with their teenage daughter and baby when they found a home downtown. The adventure didn't stop for the family when they saw the "for lease" sign in the prime-retail corner space across from the popular restaurant, Barfly and the Safety Harbor Resort and Spa. They knew it was time to go for it.
Collaborations with local merchants and suppliers are also very important to them. The gleaming displays on the counters are done by Safety Harbor's own Harbor Glass. Thomas makes a point to tell me how good of an experience it has been working with Steve on the project, and how pleased they are at how they have turned out. The cases beautifully highlight some of Rocking Delicious's exquisite chocolates and truffles, including the Tampa Chocolatier, Viktoria Richards, a local candy maker since 2008 who studied her trade in Europe. Additional chocolate lines they carry are Lindt and Asher. Soon they will have sugar-free options, as well.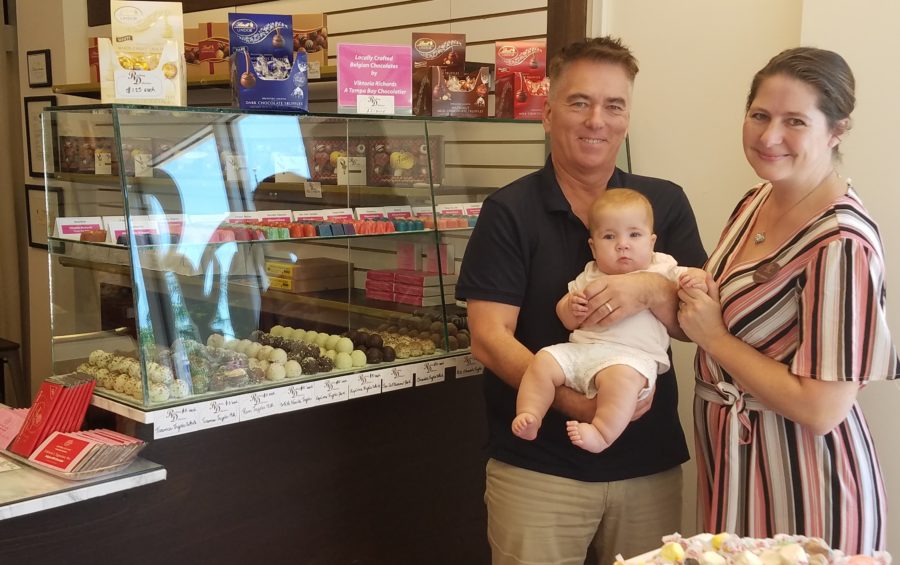 "Birnn Chocolates of Vermont has just arrived. They are a fourth generation truffle maker," Hanna explains, as Thomas hands me a key-lime truffle that is truly melting in my mouth. How does one explain the taste of Florida, sun, heaven and chocolate all at once? Especially if it is coming from Vermont? I'm not entirely sure it is possible, or if anyone should attempt such a feat. I believe one should experience such joys in life for themselves, and now it is possible to do just that. Head down to Rocking Delicious yourself and pick your flavor, whatever it may be. Be a kid in a candy shop. It's your life, and it is certainly a whole lot sweeter at 101 Main Street in downtown Safety Harbor.