Award Winning Children's Performer Roger Day @ SHPL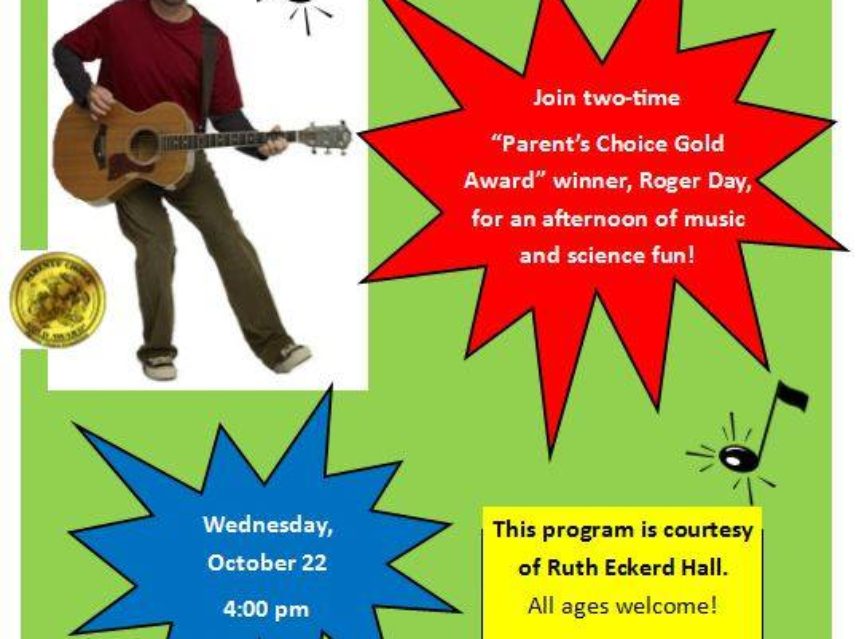 Parents, mark your calendars for a fun, free event at the Safety Harbor Library!  Encouraging kids to sing loud, jump high, and dream big, two-time Parents Choice Award-winner Roger Day will perform at the Library courtesy of Ruth Eckerd Hall on Wednesday, October 22, at 4:00 pm.
Roger's energetic live shows incorporate his trademark wit, whimsy, and wordplay, are all grounded in the joy of a powerful love and respect for children. He creates an imaginary world populated by pachyderms, Sherpas, isopods, and Mosquito Burritos and more!  Roger urges kids to reach their potential by using body and brain, mind and muscle. His intent is to empower children to follow their dreams and make a positive impact on the world.
Roger Day now plays well over a hundred shows each year from the Children's Theatre of Charlotte to the Bay Street Theater in Sag Harbor, NY. The Target Children's Book Festival has invited him to play festivals in Los Angeles, Chicago and Boston. The International Children's Festival in Edmonton, Alberta brought him to Canada and the Ruth Eckerd Hall to Clearwater, FL. For more information visit: www.rogerday.com  
The Library is located at 101 2nd Street N. Safety Harbor, FL.  For more information, call 727-724-1525 x4118 or visit www.SafetyHarborPublicLibrary.com.