It's Almost Time For The 8th Annual Taste of Safety Harbor!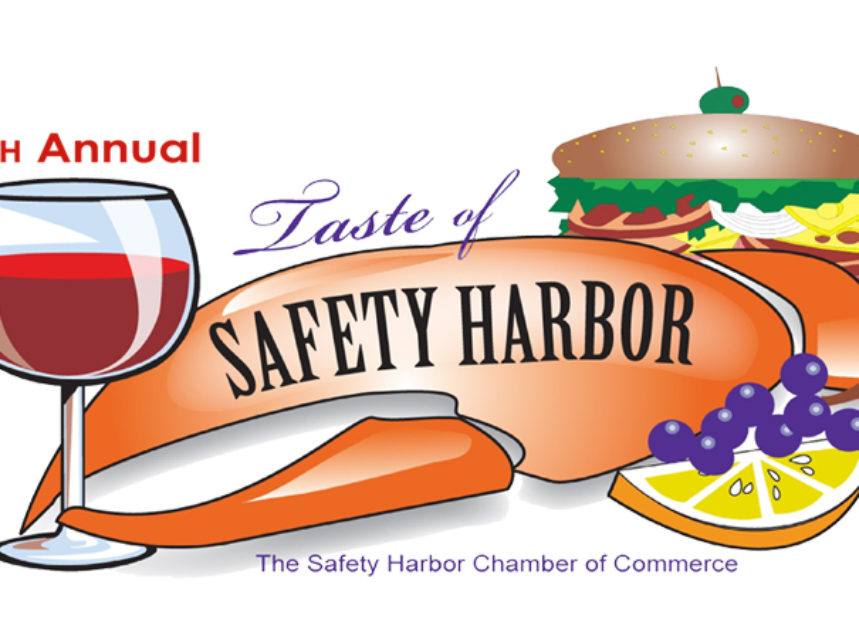 Now that the holidays are behind us, it's time to start digging into Safety Harbor's 2014 slate of events.
And what better way to start the festivities than with the 8th annual Taste of Safety Harbor?!
The midwinter food fest, held on January 20 from 5:30 – 8:30 p.m., is a perfect way to celebrate in the city while the weather is cooler – it's indoors, at the Safety Harbor Resort and Spa; it's got food and drink specials from more than a dozen area establishments; and it allows attendees to vote on their favorites, all while listening to music, watching performances and viewing the works of talented artists.
Sponsored by the Safety Harbor Chamber of Commerce, the event usually draws a large crowd.
Here is what the Chamber is saying about the Taste of Safety Harbor 2014:
Please join us as we continue the Taste tradition and tempt your palate with an exceptional culinary and beverage experience. Join us for:

A wide array of appetizers, main course samplings, desserts, wines and beers
A variety musicians performing on Baranoff Theatre and Four Springs stages
Silent Auction
A 50/50 raffle
Exhibit by the talented artists of TESA

Presentation of the coveted People's Choice Award sponsored by the Clearwater Threshers. Every attendee will have the privilege of voting for their favorite participating restaurant and have the opportunity to be present to witness the presentation of the award at the end of the evening.
Tickets for the Taste of Safety of Safety Harbor can be purchased for $25 prior to the event and can be pre-ordered at the Chamber or via its website; tickets will cost $30 at the door.
Here is the list of the establishments that will be participating in the Taste of Safety Harbor, and the event sponsors:
PARTICIPATING VENDORS:
8th Avenue
Anthony's Coal Fired Pizza
Bar fly/Saltwater
Bar Louie
Bella Kouzina
Cold Stone Creamery
Copperheads Taphouse
Crispers
Ed's Fine Wines
Famous Greek
Fit Life Foods
Fleur de Lis
Nantucket Bucket
Nolan's Pub
Safety Harbor Spa
Sam's Club
Sandwich on Main
Southern Fresh
SPONSORS:
Silver Level – $1,500
Clearwater Thresher's
Destination Tampa Bay
Robert's Printing Tampa Tribune
Brighthouse Networks
Bronze Level – $500
Coffee News
Bayshore Trophies
Tampa Bay Musician Coop
Chamber officials would also like people to know they are still accepting silent auction items – the auction item form is located on their website – and they are still looking for volunteers, as well.
Anyone who wants to volunteer, or has any questions about the 2014 Taste of Safety Harbor, can visit the Safety Harbor Chamber of Commerce at 200 Main Street in downtown Safety Harbor, or call 727-726-2890.
Bon apetit!