Neighborhood Family Center Giving Tree at the Safety Harbor Library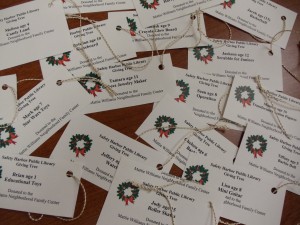 The Safety Harbor Public Library is sponsoring a Giving Tree in their lobby in support of the children of Mattie Williams Neighborhood Family Center.  The tree will be up on November 26 adorned with ornaments noting a child's first name, age, and their gift wish.  Patrons select an ornament, purchase the gift, and return it unwrapped, with the gift tag attached to the Library by Friday, December 20th.
Please consider making the difference this holiday season by supporting our local children.  There are 100 ornaments on the tree, each with gift request awaiting the smile it will bring.  For more information on the Mattie Williams Neighborhood Family Center, visit:  http://www.shnfc.org/
The library is located 101 2nd Street N., Safety Harbor, FL 34695. For more information contact 727-724-1525 x 4106.