Melons for Moolah Watermelon Festival set for July 6
Melons for Moolah – the event that earned a Guinness World Record for the City of Safety Harbor last year – will morph into an all-day Watermelon Festival this year.

The free event at Safety Harbor Waterfront Park to benefit the Safety Harbor Public Library Foundation's 20/20 Vision Campaign will be from 3-10 p.m. on July 6 and will feature something for everyone, ending with a screening of the cult movie classic "Goonies" on a 25-foot-high movie screen at 8 p.m.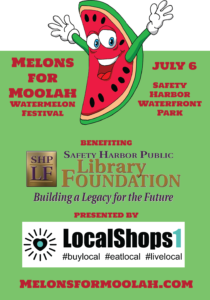 "It's astounding to me how much this event has grown since the first year, when it was just 10 people eating watermelon for charities," said Scott Long, the event's creator and its "Chief Melon Officer." "But just as in the beginning, Melons for Moolah is still all about raising money for great causes, having fun and bringing the Safety Harbor community together for a day."

This year's festival features:
A Kids Zone with three large, inflatable water slides that kids 14 and younger can ride as many times as they want with a $5 bracelet, free martial arts classes from Victory Martial Arts and carnival games designed and operated by various Safety Harbor non-profit organizations.
A Home Brew Biergarten featuring free samples from home brewers from all over the Tampa Bay region, as well as Crooked Thumb Brewery beers and wine for sale.
DJ entertainment from Les 'n More, who is donating his time for the event.
Watermelon-themed contests, including Watermelon Eating, Watermelon Seed Spitting, Watermelon Balloon Toss and a Watermelon Relay Race, as well as a contest for Best Watermelon Costume or Outfit.
A raffle tent with Yankee raffles, featuring a top prize of a 7-night cruise, as well as silent auction items and a 50/50 drawing.
Food trucks and drink and snack vendors, many of which will feature watermelon-flavored items, including watermelon wedges from The Harbor Dish. A variety of craft and product vendors will be on hand, too.
More information on the festival can be found at
https://melonsformoolah.com/
And from June 29-July 5, Melons for Moolah will promote WatermelonWeek in Safety Harbor, with restaurants, bars and other food and drink establishments creating watermelon-inspired dishes, drinks and desserts, with the public voting on their favorites. A portion of all sales will benefit the Safety Harbor Public Library Foundation.

"I'm just as excited about WatermelonWeek as I am about Melons for Moolah," Long said. 'We all know how competitive Safety Harbor establishments are with each other, and it's fun watching the creativity that is going into the entries."

The festival's presenting sponsor is LocalShops1, an organization in Pinellas County whose mission is to encourage support of locally-owned and independent businesses, with Blake Real Estate, Gigglewaters Social Club & Screening Room, Seadog Cottages, Action Pro Realty and IERNA's Heating, Cooling & Plumbing serving as featured sponsors.

For more information, including how you can volunteer, please visit MelonsForMoolah.Com or Melons for Moolah on Facebook.

"We've really tried to make this a festival that appeals to everyone in some way," Long said. "We hope everyone will make it down, even if it is only for a few hours, as we raise money to outfit the future second story of our fantastic library with everything it needs to serve the community to the fullest."