Library To Host Community Art Mosaic Project May 3rd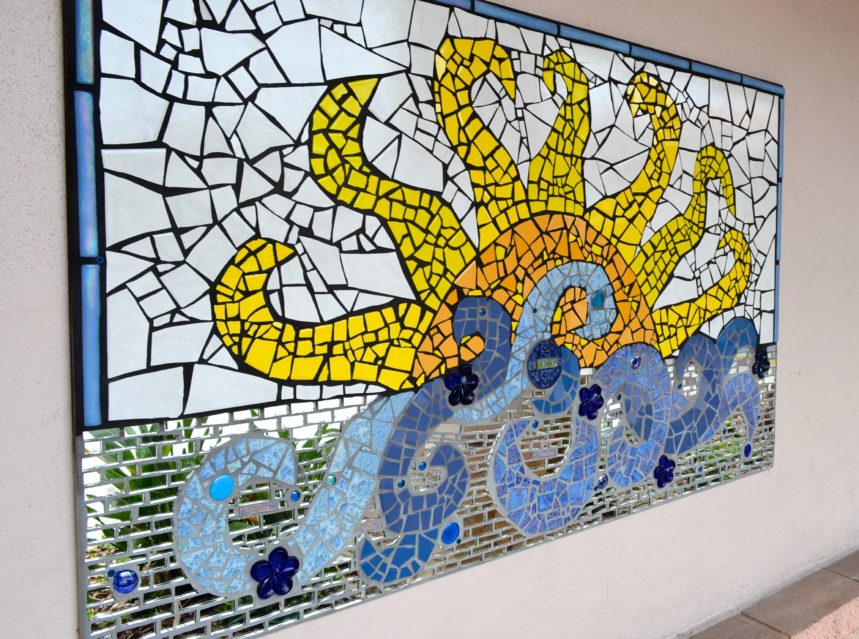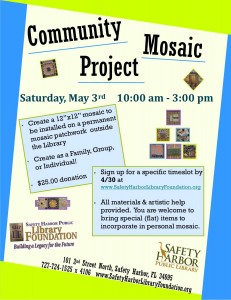 On Saturday, May 3rd, two of Safety Harbor's favorite things – the library and public art – will be united in one special event.
Local artist Heather Richardson is teaming up with the Safety Harbor Public Library for a community project that will allow participants to create a piece of what will become a patchwork mosaic that will permanently adorn the wall of the library.
A donation of $25 is all that's required to create a 12″ x 12″ tile, which Richardson will later combine together to form what will be a very noticeable piece of community created public art.
"When I won part of the FEAST competition last year, I was awarded money to be put back into the community, so I'm using some of that money to buy supplies for this project so the library doesn't have to," Richardson told Safety Harbor Connect.
"The event is really a fundraiser for the Safety Harbor Library Foundation," she added. "I just thought it would be a great way to bring people together to create a beautiful piece of public art while benefitting the library."
Library director Lisa Kothe said the event is a perfect fusion of fun, fundraiser and art.
"After Heather won the Creative FEAST grant, she told us she wanted to do this and we were like, 'yeah!'" Kothe said.
"This project is a great way to leave your stamp on the community while also raising money for the library foundation."
The event will run from 10 a.m. until 3 pm. on Saturday May 3rd, and it will be broken into time slots of one-hour shifts.
Participants do not need to bring anything to take part in the project, although you can bring personal tiles as long as they are small, flat and smooth; all the tile was donated to the library, and Richardson will do all the "messy work" by grouting them together and creating the finished piece.
The organizers also stressed that you don't have to be an artist or have any artistic skill to participate in the project, just show up and have fun. Plus if you want to contribute to the cause but don't want to create a tile, you can do so by donating $25 and someone on-site will create a square in your name.
Richardson said it will take a few weeks to put the whole completed piece together.
But when it's done she said it will be a great addition to what has become a thriving art community.
"It's not about being an artist, it's about being part of the community," she said. "It's about bringing people together to help make the community beautiful and a destination for artists and art lovers."
To sign up for a slot in the library mosaic project, or to donate $25 to the cause, visit www.signupgenius.com or contact the Safety Harbor Public Library at 727-724-1525.