Ben Montgomery – Author of Grandma Gatewood's Walk at the Safety Harbor Library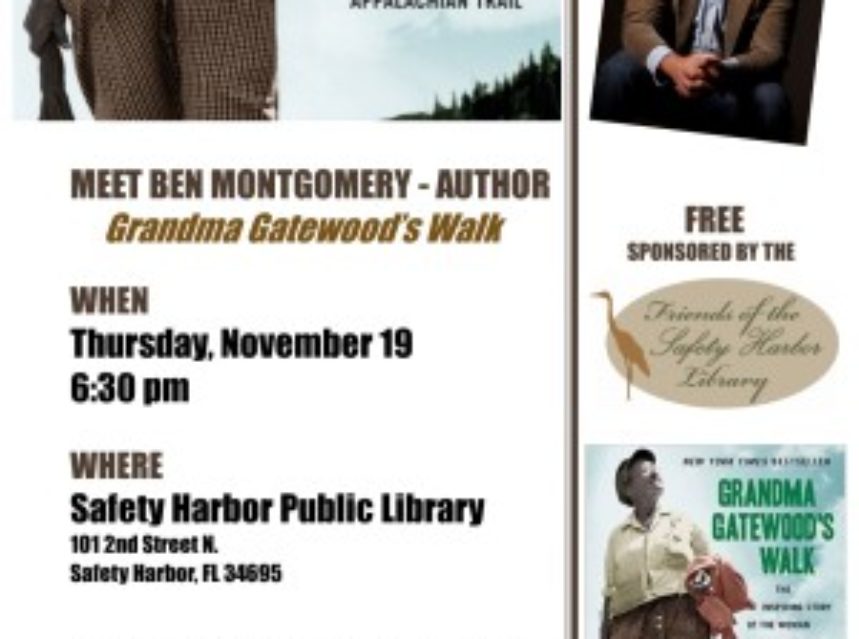 Meet Ben Montgomery, journalist for the Tampa Bay Times and author of the New York Times bestseller, Grandma Gatewood's Walk: The Inspiring Story of the Woman Who Saved the Appalachian Trail at the Safety Harbor Public Library on Thursday, November 19, 6:30 pm. Copies of the book will be available for sale and signing.
Grandma Gatewood was the first solo woman to hike the entire 2,050 miles of the Appalachian Trail in 1955. She was 67 years old, a mother of 11, grandmother of 23, and survivor of an abusive marriage. She hiked the trail carrying a homemade knapsack and wearing ordinary sneakers, relying on the hospitality of strangers and her own resourcefulness. "It's not an Appalachian Trail book," Montgomery said. "It's the story of a remarkable woman."
Montgomery is the founder of the narrative journalism website www.Gangrey.com and a 2010 finalist for the Pulitzer Prize in local reporting. He won the Dart Award and Casey Medal for the series For Their Own Good, about abuse at Florida's oldest reform school. He lives in Tampa.
This event is sponsored by the Friends of the Safety Harbor Library. The Library is located at 101 2nd Street N. Safety Harbor. Call 724-1525 x 4112 for more information or visit www.SafetyHarborLibrary.com.