Award Winning Author – Gabi Justice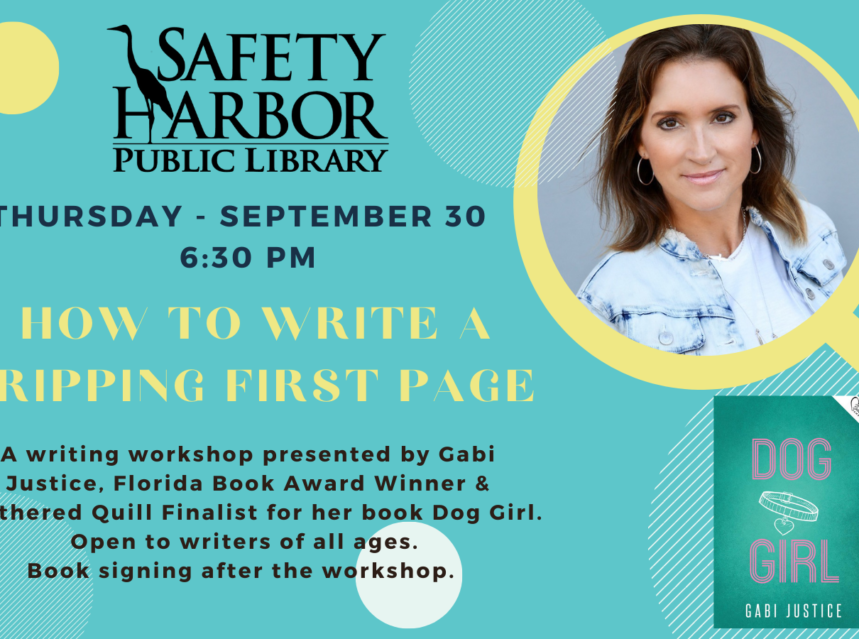 Presents: How to Write a Gripping First Page
Author, Gabi Justice winner of the 2020 Florida Book Award silver medal for her young adult romance novel Dog Girl, will present a workshop, How to Write a Gripping First Page on Thursday, September 30, 6:30 pm at the Safety Harbor Public Library. The workshop is open writers of all ages.
How can you hook a reader, an agent, a publisher in the first 250 words of your novel? You've written 300 pages of beautiful prose, but no one will read it if your first page falls flat. Learn the key elements that instantly draw a reader's attention. Bring your first page to Gabi's workshop for an in-depth review. Her book will be available for sale and signing after the workshop.
Gabi spent most of her adult life writing editorial copy for local magazines after graduating from the University of South Florida. Florida provides the settings for all her coming-of-age stories that highlight bullying, misjudgment, acceptance, and teen anxiety. Her main characters are goal-oriented teenage girls with a drive that can be fierce and dangerous. For more information, visit www.gabijustice.com
The Library is located at 101 2nd Street North, Safety Harbor. Call 724-1525 x 4112 for more information or visit www.SafetyHarborLibrary.com.